I Do Wedding Exhibitions - East Midlands
Derby Arena, Derby.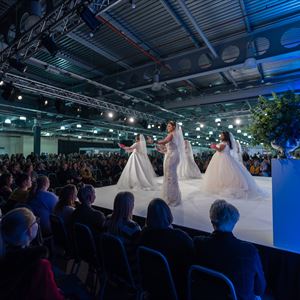 Visit the BRAND NEW East Midlands I Do Wedding Exhibition at Derby Arena this October and meet over 80 quality wedding suppliers just waiting to help you with your wedding day. ?
Featuring an amazing range of wedding suppliers including cake makers, bridal wear, wedding venues, grooms wear, jewellers, venue stylists, photographers, wedding stationers and so much more.
Feel inspired with all that's on offer and be sure to check out the live stage and professional catwalk shows on three times during the day
This show is packed with all the wedding planning inspiration you could ever need.
If you have any questions after booking tickets, please click here.
View the full exhibition details here.
Children under 16 are free to attend and don't need a ticket; make it a family day out!
More information about I Do Wedding Exhibitions - East Midlands tickets
Facilities
FREE PARKING: Car Parking is Free during the Exhibition and will be signposted on the day.
CAFE: There is a cafe area open during the day located at the entrance to the exhibition. There will also be a food court located within the exhibition for visitors to purchase food & drink during the day.
FREE TICKETS: Don't forget to download your free ticket here. It's one free Bride OR Groom ticket per couple, and is valid with a paying ticket upon entry. That means one of you goes free when the other pays (applies to engaged couples only).
All other visiting guests can book tickets on the ticketing options above.
Disabled carer tickets: If you have a registered disability and need a carer for
assistance, you are still required to pay the standard price for your ticket and your carer may enter the show free of charge.
Directions to the Show
Address: Derby Arena, Royal Way, Pride Park, Derby, DE24 8JB
SATNAV: DE24 8JB
Derby Arena is located on Pride Park, just outside Derby City Centre and is signposted on all major routes. For how to get there, click here.
Please Note: Photography and/or filming will be taken at this event for use by I Do Magazine and/or Exhibitors for publicity purposes. By purchasing a ticket and attending the exhibition, you are consenting to the possibility of being photographed/filmed with the potential for these images to be used in future material with regards to the exhibition. If you do not wish to be filmed/photographed, please collect a sticker on entry to the exhibition.